Lewis Peek who played Ted Carkeek in the second series of Poldark was interviewed about his new role as George Fancy in the fifth series of Endeavour.
The interview was published on the 30th December 2017 in the Plymouth Herald.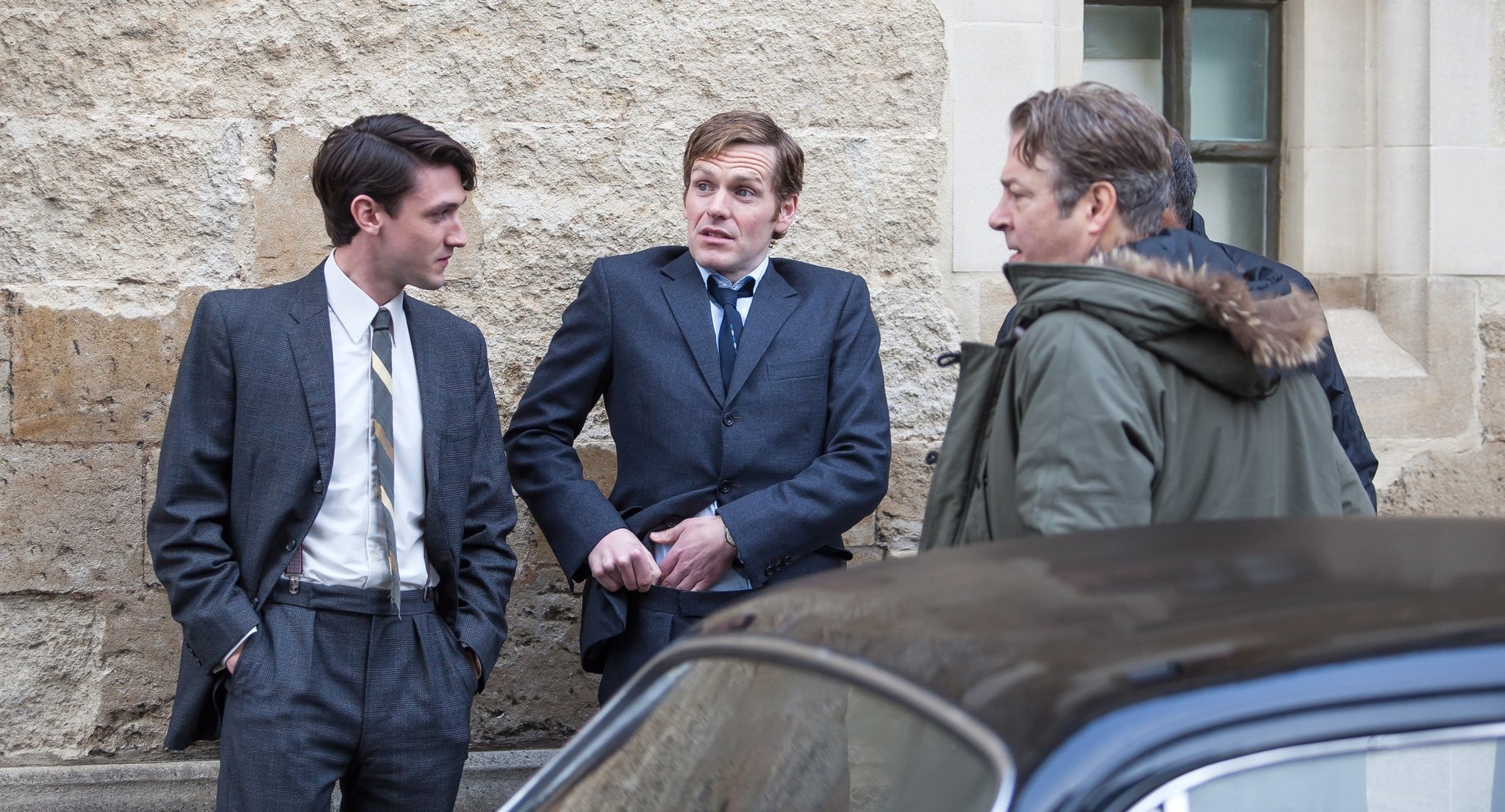 Image: Endeavour, endeavourneverland 
Right now, Plymouth actor Lewis Peek can wander around his home city without anyone giving him a second glance.
But all that is about to change.
The 24-year-old will become a well-known face on our TV screens in early 2018, starring in ITV's primetime detective drama Endeavour and having just been selected as one of Hello Magazine's rising stars of 2018.
Lewis finished an eight-month stint filming Endeavour in November 2017 and will appear in all six feature-length episodes playing rookie detective George Fancy.
(Image: Penny Cross)
Lewis said that as the new kid on the Morse block, playing a new character in the series, he was somewhat nervous when he walked onto set for the first time.
He had nothing to worry about.
The cast, including bill-toppers Shaun Evans (Morse), Roger Allam (Thursday) and others now into their fifth season of the hit show, accepted him from the start.
"It was fine," said Lewis. "Everyone was very welcoming. I immediately felt part of the team.
"Roger, Shaun and the rest of the cast were a pleasure to work with. There were no egos on set."
The drama is primarily set in Oxford, but Lewis said only about five days of shooting per episode took place in the famed City of Dreaming Spires.
The majority of scenes were shot in and around Oxfordshire and Buckinghamshire and in a studio in Beaconsfield. Other locations included London and Reading.
(Image: in paradisum : Endeavour)
But filming in Oxford itself was special," Lewis said. "People turn up in their hundreds to watch the filming. That's when you realise how big the Morse fan base is. It was magical."
And maybe that's because Lewis was among that fan base himself.
"I remember watching series four with my stepdad and thinking about whether I could get an audition for it," he said. "I'm a genuine fan of the show, it's such a great programme, shot so cinematically, and with heart and soul."
Lewis' career began to take off in 2014 when he landed a small role in the award-winning film Dartmoor Killing, filmed near Plymouth.
From that he landed a part as recurring character Ted Carkeek in the second season of Cornish period drama Poldark, appearing in seven episodes of the Sunday night ratings winner.
But when he was done with that project, Lewis didn't do any acting for a year and even worked in a Plymouth coffee shop for a few months.
"2016 was a weird year," said Lewis. "I finished filming Poldark in February, changed my agent and secured a manager in the US. I didn't work from February 2016 until I started Endeavour in April 2017.
"Then it was nice to have a job for the year and I didn't have to worry.
"Acting can pay well, but for 12 months I didn't make any money. This being my job, that can be the downside of being an actor.
"The other thing is you are constantly being judged, or being rejected, most of the time you're not even told why you haven't got a job, it's hard not to assume that it's because you're not good enough.
"That's why there are so many mental health issues in acting, it can be incredibly stressful.
Photo by Tony Steele @TonySteele2020
Lewis isn't out to seek fame – he would rather be recognised as a talented actor and yearns to work on increasingly ambitious projects.
"Hello picked me as a rising star for 2018 and I had to do a photo shoot for them" he said. "I don't really like that side of the job, I don't really like attention. In that case, people may ask me why I became an actor, but I see it as a by-product of being an actor.
"If doing a photo shoot is going to help my career I'd be stupid not to do it, and I'm honoured they picked me.
Lewis said he's happy not being famous, but understands that one day that may change.
"I'd hate to have a life where you can't do the things a normal person can," he said. "I want to keep it that way, but I realise that if I want to be successful there has to be some level of that.
"But if I did become famous I'd still be the same person.
"Coming from Devon, and a working class family, the people around me wouldn't let me get big headed.
"When I found out I had the part in Endeavour I thought my agent was joking, I couldn't believe it."
Lewis has built his career the hard way. The former Eggbuckland Community College student is not from a theatrical family, never attended drama school, and landed his first parts without the aid of an agent.
"There's no set way to become an actor, you can't read it in a book, you have to find your own way, you shouldn't compare yourself to anyone, all actors are different and everyone's journey will vary," he said.
"I've wanted to be an actor since the age of 12.
(Image: in paradisum : Endeavour)
"I've never felt like I've left Plymouth and though I have to live in London my family are here," he said. "But it's hard for actors down here, and I feel for them."
Since finishing Endeavour Lewis has worked on a short comedy film, called Losing It, which is due to be shown on Sky Arts in 2018.
In the New Year he will be auditioning again for "lots of exciting projects" and said he has a definite idea of how he wants his career to progress.
"I'd like a principle role in a TV series or a supporting role in a major film," he said. "I want to build my career up slowly, rather than rush it and make a wrong decision."