Hello Endeavourists and welcome to my review of the FOURTH episode of the new sixth series, Degüello .
I hope this post finds you all well my fellow Endeavourists.
So boring bits out of the way first.
Please subscribe to to my website. Subscribing to this website can be done in two ways.
If you have a WordPress account then click the 'following' button. If you don't have a WordPress account then enter your email and click the subscribe button. Entering the email only means subscribing to my website you will NOT be creating a WordPress account. (WordPress are the company that I pay to use their platform).
To help run my website I have set up a Paypal account for donations. Thank you to all those who have made donations.
My Twitter, https://twitter.com/?lang=en-gb
My Twitch Channel; https://www.twitch.tv/morselewisendeavour
My Youtube Channel, https://www.youtube.com/channel/UCjIIGCcVpSIFwtRlS8hKWDA?view_as=subscriber
I have started my own Facebook page. It is primarily an extension of this website. I decided to start the Facebook page as there has been times when I have an update to a review post or some interesting news or information but it was all to small to make into a full blown post here on my website. So, come and join and keep up-to-date with all that happens in the Morse universe.
My Facebook Page; https://www.facebook.com/groups/1084993125023468/
SPOILERS AHEAD!
Endeavour Series six, Episode Four; 'Degüello'.
Chronologically this is episode 27.
First broadcast 3rd March 2019.
Where's Colin?
An eagle eyed subscriber noticed this second reference to Colin. It's during the autopsy scene and is lying amongst the dead man's things. It's a matchbox.
Directed by Jamie Donoughue. (No connection to the Morse universe).
Written by Colin Dexter (characters), Russell Lewis (written and devised by). Russell has written all the Endeavour episodes. He also wrote;
Lewis (TV Series) (screenplay – 4 episodes, 2010 – 2012) (story – 1 episode, 2006)
– Fearful Symmetry (2012) … (screenplay)
– Old, Unhappy, Far Off Things (2011) … (screenplay)
– Falling Darkness (2010) … (screenplay)
– The Dead of Winter (2010) … (screenplay)
– Reputation (2006) … (story)
He also wrote the Morse episode, 'The Way Through the Woods'.
SYNOPSIS
The death of a librarian at the Bodleian library has Morse and Thursday baffled. The discovery of another body that had buried alive brings the tam closer to who killed George Fancy. With mounting pressure on the team to fall in with the corrupt politicians and policemen or face being exposed or worse, Thursday, Morse, Strange and Bright have a difficult decision to make. Betray their moral compass and their oath as a policeman or face up to an uncertain future.
REVIEW.
(warning, this review will contain some spoilers)
Before you watch my video review I must apologise for my excoriating post that was mostly done in a pique of anger. Having been a Morse TV fan for over thirty years I was very angered by the poor ending to an episode I was rather enjoying. I believe it was a rather mundane, boring trite way to resolve so many loose ends. It would never have happened in the original Morse series or the Lewis series. And neither would all the gunplay. Anway, I hope you enjoy the video.
Strange wants to talk to Endeavour in private.
But leaves the door ajar. Why? So that the scene can contrive Thursday overhearing them.
—————————————————–
Look how far Jago, McGyffin and the thugs have to run for cover.
As they run Fred says, "Take 'em." and pulls out his gun as does Morse, Jim and Bright. So, why not shoot them there and then. Why give them the chance to get to cover.
—————————————————–
Olive Reynolds is buried in a ton of masonry.
But yet doesn't have a bruise, cut or any injury to her legs, arms or face???????
Episode Jag Rating – out of 10. (before the ending)
Episode Jag Rating – out of 10. (for the ending but not including Morse entering his new home)
Episode Jag Rating – out of 10. (For the end scene with Endeavour entering the house).
(I had a tear in my eye during the last scene).
———————————————-
To read my review of PYLON episode Series 6, Episode 1, click HERE.
To read my review of APOLLO episode Series 6, Episode 2, click HERE.
To read my review of CONFECTION episode Series 6, Episode 3, click HERE.
MUSIC
Thursday sitting at home listening to some music; Mexicali Rose by Jim Reeves.
LITERARY REFERENCES.
'Memoirs of a voluptuary' is one of the books that will confirm foreign prejudice that British Public Schools are hotbeds of homosexual activity. It describes the sexual awakening of the narrator, Charlie Powerscourt, and his friends Bob Rutherford and Jimmy, the Duke of Surrey. The ingenuity of their efforts to achieve sexual release is astonishing, and interwoven with this curious story is some remarkable heterosexual narrative from a sophisticated French friend. ( I wonder if Russell Lewis read it in his pursuit of research)
———————————————
The Latin phrase circled in red is, 'dulce domum'. It means either 'Sweet Home' or 'Sweetly at home'. The phrase is used in Kenneth Grahame's 'The Wind In The Willows' in Chapter 5. It is the name of the chapter.
————————————————
George McGyffin is telling Strange that something has to be done about Morse. He says, "Let us not deal falsely, eh?" This is a quote from the bible, Leviticus 19:11: Ye shall not steal, and ye shall not deal falsely, and ye shall not lie one to another.
———————————————————–
When Thursday and Morse return to the police station after the shoot out, Thursday says, "Put the black spot on all of them." The Black Spot is a literary device invented by Robert Louis Stevenson for his novel Treasure Island. In the book, pirates are presented with a "black spot" to officially pronounce a verdict of guilt or judgement.
ART
There was a lot of art on display at various places but it will take a while to identify. Hopefully in the near future I will be able to add this information to this post.
LOCATIONS
This scene is around the one minute mark.
This is Turl Street.
Turl Street has been used often in the original Morse, Lewis and Endeavour.
——————————————–
Around the two minute mark we see the entrance to the Bodleian Library.
————————————————
Thank you to someone on Twitter who pointed out that this is Magdalene College Library. I did wonder why I never saw this room on any of my visits to the Bodleian and why I couldn't find any pictures of it.
————————————————
Below is the quad of St Edmund Hall seen at around the 10 minute mark. St Edmund Hall is referred as Garstang College in the episode.
———————————————————–
00h13m55s
Endeavour and Thursday talk to the porter.
This is St Edmund Hall's front quad.
Next up is Cranmer Tower Block.
This was filmed in Luton.
These flats are in Waulands Bank Drive, Luton.
—————————————————-
After the collapse of the tower block we see the police racing to the scene.
This is Holywell Street in Oxford. It has been used a few times in the Endeavour series. It was used in last week's episode when we seen Thursday spotting Jago in a shop.
————————————————–
The Thames Valley police station.
The location of the Thames Valley Police Station is, The St Cross Building, University of Oxford. It contains the English Faculty Library.
—————————————————-
Around the 33 minute after talking to Dr. Jasper Nicholson we see Morse and Thursday walking and talking.
This is Queen's Lane. In the background you can see All Souls College. Queen's Lane is where the thieves ran who eventually beat up Fred.
——————————————
At around the 41 minute mark Endeavour enters the 'council building' where the social work department is located.
This is Catte Street very close to the Radcliffe Camera.
—————————————————-
Bright walks toward New College lane for the supposed meeting with Assistant Chief Constable Bottoms. A teacher is discussing the bridge and the kids notice 'the pelican man' as Bright passes.
This is of course the Hertford walkway otherwise known as the Bridge of Sighs. It may seem rather a superfluous location to mention but I have to think that someone new to the Morse universe and Oxford may read this.
Bright is now in New College Lane.
PUB LOCATIONS
This looks very much like the pub that was used in the previous episode, Confection. That pub was thought to be The Red Lion in Penn. I still believe this is a film set and not a real pub.
Actors who appeared in the Endeavour Series 6, Episode 3 'CONFECTION' and/or Morse or Lewis.
Ian Burfield  appeared in the Lewis episode, 'And the Moonbeams Kissed the Sea'.
He played Jefferies and his sister was Susan Chapman who was played by Caroline O'Neill who plays Fred's wife, Winifred.
Alexander Hanson who played Councillor Clive Burkitt
also appeared in the Lewis episode Generation of Vipers as journalist, Francis Mitchell.
CONNECTIONS OTHER THAN ACTORS TO THE LEWIS AND ORIGINAL MORSE SERIES
At about 45 minutes Morse is talking to Professor Ernest Burrowes about Hollis Binks. Ernest mentions that he and Hollis did the Santiago de Compostela together. This is a very famous walk and pilgrimage in Europe. Coincidentally that walk was what Hathaway had planned to do but never reached his destination. He mentions this in Series 8, Episode 1, Entry Wounds.
As mentioned above Caroline O'Neill played Susan Chapman to the character Jefferies who played her brother. Jefferies was played by Ian Burfield who as I said above appeared in the Lewis episode 'And the Moonbeams Kissed the Sea'. Now another connection with that Lewis episode and this episode is that it also had a murder, a body in the Bodleian.
—————————————————
The above scene has a connection with the Lewis series. The scene above is almost a perfect match for a scene in the Lewis episode The Lions of Nemea, (series 8, episode 3)
Watch out for Colin Dexter in the background in the hat.
Both scenes filmed at St Edmund Hall, Oxford.
—————————————————
Burrows mentions undertaking the Compostella walk in Spain. St James of Compostella is one of the artworks in my review of Fat Chance. Hathaway in the Lewis episode Entry Wounds, also mentions walking the The Camino de Santiago the "Pilgrimage of Compostela"; Galician: O Camiño de Santiago), known in English as the Way of St. James
Miscellaneous
Is it just me or did the narrator at the beginning of the episode sound like Roger Allam? It was him wasn't it?
——————————————–
The house that will eventually become his home for the rest of his life. Only £3140. I wonder what the equivalent price would be for today.
The above will become the house below, eventually.
———————————————
I'm assuming that Deborah Teagarden is based on Aurora Teagarden a fictional character created by author Charlaine Harris. She is the protagonist of a series of eleven crime novels written from 1990 to 2017. In 2014, Hallmark Movies & Mysteries began broadcasting adaptations of the novels as an original film series entitled The Aurora Teagarden Mysteries.
————————————————-
When Jim Strange walks into the room where the dead junkie is lying, Ronnie Box says, "- Christ, what's this? You pair should get on Opportunity Knocks. "Me and my bloody shadow."
Opportunity Knocks was a talent show from that was on British television in the 1950s, 60s, 70s and then the 1980s.
—————————————————
The young librarian is named Lucy Paroo. There is a character in the musical The Music Man named Marion Paroo and her occupation is…librarian.
——————————————
When Thursday and Morse are at Paige's flat they look at a map of the Gower.
Gower or the Gower Peninsula is in South Wales. It projects westwards into the Bristol Channel and is the most westerly part of the historic county of Glamorgan.
————————————————
On the map above there is an inscription, Anemoi. Morse translates it from the Greek to mean Wind gods. THE ANEMOI were the gods of the four winds–namely Boreas the North-Wind, Zephryos (Zephyrus) the West, Notos (Notus) the South, and Euros (Eurus) the East. Each of these was associated with a season–Boreas was the cold breath of winter, Zephyros the god of spring breezes, and Notos the god of summer rain-storms.
————————————————
When Morse and Thursday first interview Dr. Richardson they question him about the book he was reading in the library, 'Memoirs Of A Voluptuary'. Thursday replies, "I'm more of a Holly Martins man myself." The name , Holly Martins is a reference to a character in the wonderful film, The Third Man' that starred Orson Welles and Joseph Cotton. Holly Matrins is a writer in the film. The film has a famous theme tune.
The film includes one of the greatest scenes in film history. The scene also includes great dialogue written by the genius Orson Welles.
——————————————–
At around the 26 minute mark, Bright has gone home after the collapse of the building. His wife awakes and asks for Dulcie. Dulcie was the Bright's daughter who died in India.
————————————————
At around the 30 minute mark Morse is talking to the porter about Professor Burrowes. The porter says, "You wouldn't think to look at him now, sir, but, erm he was quite a card in his day. but I suppose life takes it out of the best of us. Dismay.". Morse says, "How's that?" The porter replies, " Same as most men, I suppose, sir. Some girl he had hopes of." Mmmmmm portentous observation.
———————————————
The above scene is set in St Edmund Hall and the following words, from Isaiah 12:3, are carved on the well-head: "HAVRIETIS AQVAS IN GAVDIO DE FONTIBVS SALVATORIS" ("With joy, you will draw water from the wells of salvation"). Read more by clicking HERE.
————————————————-
On the wall of what was the squat  and soon to become Morse's house we can see a Latin phrase on the wall. The phrase is 'Dulce Domum" which literally translated means 'Sweetly at home' or simply 'sweet home'.
—————————————————-
In the dead man's belongings was a glass case which contained the maker Dinkley's Opticians.
Dinkley is the surname of Velma from the Scooby Do cartoons.
—————————————
Hollis Binks lived in Gardiner Road.
There is no Gardiner Road in Oxford but there is a Gardiner Street.
—————————————————-
This is a rather tenuous link but here goes.
There is a Sherlock Holmes story called The Maple White Terror: A Sherlock Holmes Adventure. Of course we have Dr. Watson, Sherlock's 'sidekick'. However the afore mentioned novel is not Sir Arthur Conan Doyle but by one Sean Phillips. I'm assuming the copyright has elapsed in regard to the character, Sherlock Holmes.
———————————————
Again maybe something about nothing.
Chitton is a region in India. A connection to Bright. I know very tenuous.
——————————————–
Councillor Clive Burkitt's secretary is known as…
Miss Lansbury. This is of course a reference to Angela Lansbury who plays Jessica Fletcher in the TV series Murder She Wrote. I would love to think this reference is there for my benefit as I have compared some of Russell Lewis's episodes as not unlike Murder She Wrote. But, of course it isn't. (Murder She Wrote will be mentioned again in my video review)
————————————————————–
Morse explains to Thursday all that he was told by Deborah Teagarden. He relates the story of Professor Burrowes hiking on the continent  before the war digging for fossils. He met and fell in love with Deborah Baumgarten who was Jewish. She perished, along with her family, at a labour camp called Mittelbau-Dora.
Mittlebau-Dora was a real concentration camp located near Nordhausen in Thuringia, Germany. It was a subcamp of Buchenwald concentration camp. T read more about the camp click HERE
———————————————
When Dr Nicholson is explaining to Morse and Thursday why he destroyed Emil Baumgarten';s notebooks he says that every day he recites the Mourner's Kaddish for Emil Baumgarten. This prayer is recited as part of Jewish mourning rituals. It is written in Aramaic, not Hebrew (except for the last line, Oseh Shalom, a Hebrew prayer for peace). Even though this prayer is associated with death and mourning, it does not actually mention death.
—————————————————-
Councillor Burkitt tells Fred that he has the cheque that he gave Charlie and that Scotland Yard are looking for him in connection with a, "long firm fraud". A long firm fraud (also known as a consumer credit fraud) is a fraud that uses a trading company set up for fraudulent purposes; the basic operation is to run the company as an apparently legitimate business by buying goods and paying suppliers promptly to secure a good credit record.
—————————————————–
When Morse eventually relates to Thursday the finding of Hollis Binks body in the basement  of the tower block and his belief that Hollis Binks had find out about the Councillor and McGyffin's scam in regard to the concrete used to build Cranmer House, Thursday says to Morse, "Say you're right people like that it only goes one way. What are you saying? It's a hiding to nothing. You want another Blenheim Vale? You've gotta let it drop.
Blenheim Vale was the children's home that Endeavour and Thursday investigated in the episode Neverland, series 2, episode 4. If you haven't seen that episode stop reading now as I have to mention how the episode ends to relate it to Thursday comment …………………………………………………………………………………… In Neverland Thursday was shot by Clive Deare and Endeavour was imprisoned.
—————————————————————-
The only music in this episode (sadly no classical music) is sung by Jim Reeves. Interestingly, Jim Reeves was playing in the club in episode 'Icarus' when Morse, Thursday et al discovered the shoot out and George Fancy's body.
—————————————————–
BW Records was a real music label.
During the 1960's and 1970's the Wayne County, Ohio area, in addition to the surrounding counties like Ashland, Richland and Stark, had many rock bands that performed at a wide variety of venues throughout the region, and beyond, and several bands also produced records. One source of producing and distributing records from local bands and performers was BW Records, a local record label founded by Quentin 'Reed' Welty of Wooster, OH.
———————————————
Interesting little touch here in the scene when Strange is taking down George Fancy's picture from the incident wall.
On Jim's pinkie finger is a Masonic ring. We the viewer are to think that symbolic ring and all it symbolises is more important than George Fancy and that's why he is taking his picture down.
—————————————————
I'm assuming that the letter Fred left for Win was tantamount to a suicide note.
Fred didn't believe he was going to return from the stand off with Jago, McGyffin and the rest. He probably told Win how much he loved her and his regret at the way he treated her. Win's reaction after picking up the note suggests that she to thinks it is a suicide note.
—————————————————–
Endeavour mentioned that the Memoirs Of A Voluptuary were part of the Phi Collection. The Phi Collection is factual and is part of the Bodleian Library. To read more about the Phi Collection then click https://www.bodleian.ox.ac.uk/news/2018/nov-06
—————————————————
Jago, when passing the envelope with money in it, says to Thursday, "It's just baksheesh for a blind eye turned." Baksheesh is a word used in Asia meaning a small sum of money given as alms, a tip, or a bribe.
————————————————
When Endeavour is talking to Dorothea Frazil about the collapse of the tower block she says, "When they tore down the Oxpens slums, it was meant to be a fresh start." Oxpens was that part of Oxford between Oxpens Road and Queen Street. It was crowded, busy and sometimes dangerous quarter of St Ebbes. Once the "beating heart of Oxford", the entire neighbourhood was demolished to make way for the shopping mall. It was known as the "slums of Oxford" Families lived in insect-infested houses that had been condemned decades before. There was a pub on every corner, and the streets bustled with traders: greengrocers, butchers, furniture makers, fish and chip shops – even an ice cream parlour.
—————————————–
I did wonder why we had this scene in the first episode, Pylon, before we see Ronnie Box getting in to his car. I guessed it had an element of prognostication but never guessed in respect of a tower block collapsing.
———————————————
The collapse of Cranmer House in this episode is of course a reference to Ronan Point, a tower block that collapsed in 1968. To read more about that event click HERE.
Is it a direct reference to the Grenfell disaster, I don't think so.
————————————————-
Alison, one of my subscribers made an interesting point in the comments section. She wrote, "As a music lover I'd like to add one more point. Whenever Endeavour moved in the past, he took both his suitcase and his record player. At the end of Degüello he moves into his hew home with just his suitcase. Of course we know he always maintained his love of music, but I'm hoping this wasn't symbolic of a lack of classical music in the next series."
Very interesting point Alison. I can only assume that Russell or the production team forgot to add that prop into the scene. Russel Lewis remarked that the record player was not necessary as the scene itself was reverential enough.
————————————–
Clare, one of my subscribers made a great connection to the scene where Bright is saved from the thugs by the children.
Indiana Jones is saved in much the same way by children in the film Indiana Jones and the Temple of Doom.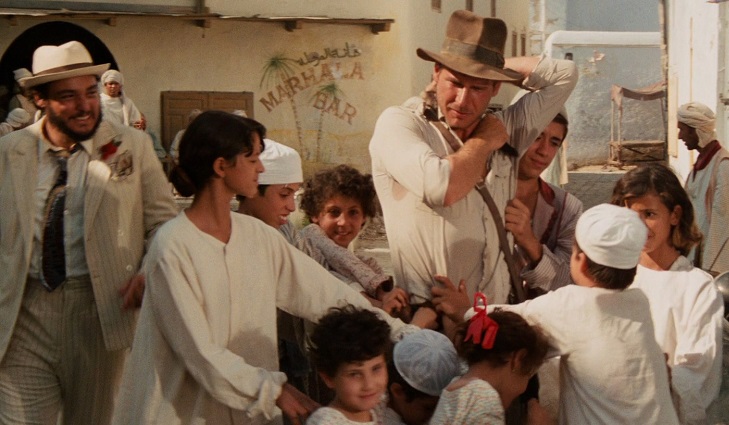 ———————————————
A huge thank you to Jeremy who passed on this interesting piece of information in regard to the three tower blocks shown near the beginning of the episode.
The three names of the tower blocks are Cranmer, Latimer and Ridley. These three names a reference to the Oxford Martyrs'. The Oxford Martyrs were Protestants tried for heresy in 1555 and burnt at the stake in Oxford, England, for their religious beliefs and teachings, during the Marian persecution in England. To read more about the Oxford Martyrs click HERE.
——————————————
John Crawford noticed the following. Being a Hitchcock fan I should have noticed this. "my immediate thought on hearing the villain's name McGyffin was the "MacGuffin", apparently a showbiz term for the thing chased after or motivating the plot. According to Wikipedia, Alfred Hitchcock popularized the term, explaining that the MacGuffin is "the thing that the spies are after but the audience don't care". Someone else defined it as "any justification for the external conflictual premises of a work".
———————————————–
Thanks to John and Cheryl who noticed the following; "At 45 minutes Burrows mentions The Happy Wanderers Club to Endeavour. This is a reference to a popular song from the 1950s of German origin called The Happy Wanderer famous for the words " Valderie, valdera" etc. Burrows mentions undertaking the Compostella walk in Spain. St James of Compostella is one of the artworks you draw our attention to in your review of Fat Chance."
John and Cheryl also commented, "At 1 hour 1 minute Endeavour informs Miss Teagarden that he does not read German. I will say more of Morse's linguistic skills when contacting you about Who Killed Harry Field but in that episode he had no difficulty speaking German and in The Settling Of The Sun he informs Kurt Friedman that he was stationed in Cologne at Marienplatz which at the very least implies he had an opportunity to learn some German."
FRED THURSDAY'S WORDS OF WISDOM.
When Ronnie takes Fred to meet McGyffin and the councillor, Fred wonders who is in charge. McGyffin tells Ronnie to wait in the car. Fred says, "Is he working you with his foot, or what?"
————————————————–
When entering Osbert Page's flat Thursday remarks, "Well either Osbert Page was the untidiest librarian – to ever draw breath – Or somebody's beaten us to it."
–————————————————–
As part of the same conversation as above Fred says, "Now you're just a villain.
Same as this two-bob shitehawk."
REGINALD BRIGHT'S WORDS OF INNOCENCE AND EXPERIENCE.
"A moment's courage or a lifetime of regret? That's always been the choice."
MAX DEBRYN'S WITTICISMS
Nothing this week.
THE MURDERED, THEIR MURDERER/S AND THEIR METHODS.
The first victim, Osbert Page.
Stabbed with an wood chisel and died from massive haemorrhage. Killed by one of McGyffin's thugs.
———————————————
Junkie killed by the heroin laced with Quinine.
———————————————
Shot twice. Buried alive. Hollis Binks. ( is his surname to Jar Jar Binks from Star Wars?). Killed by one of McGyffin's thugs.
——————————————–
Jago shot by Ronnie Box
BRITISH COLLOQUIALISMS TRANSLATED.
When Morse meets Joan and Viv he asks Joan, "How you getting on at Cranmer house? Joan answers, "We've got people scattered all over town. Bed and breakfast, Sally Army." The 'Sally Ann' is shorthand for The Salvation Army. The Salvation Army (TSA) is a Protestant Christian church and an international charitable organisation.
——————————————————
Fred says to Ronnie, "What've you got me into, you cowson?" Cowson (London slang, chiefly South London) Term of mild to medium abuse for a person or a situation.
———————————————–
Fred declares that Councillor Burkitt has turned Queen's Evidence. For the benefit of your American followers you might consider explaining that this is where a co-accused has agreed to give testimony on behalf of the Prosecution in a Criminal Trial for a reduced sentence or immunity from prosecution.
CAST
Faith Omole as Olive Reynolds
Anton Lesser as Chief Superintendent Reginald Bright
Carol Royle as Mrs. Bright
Roger Allam as DI Fred Thursday
Laura Donoughue as Deborah Teagarden
Michael Jenn as Osbert Page
Shaun Evans as DS Endeavour Morse
Sean Rigby as DS Jim Strange
Caroline O'Neill as Win Thursday
James Bradshaw as Dr. Max DeBryn
Precious Mustapha as Lucy Paroo
Aidan McArdle as Dr. Jasper Nicholson
Paul Jesson as Professor Ernest Burrowes
Ian Saynor as Mr. Jenkins
Alexander Hanson as Councillor Clive Burkitt
Zaris-Angel Hator as Sandra Reynolds
Richard Riddell as DS Alan Jago
Abigail Thaw as Dorothea Frazil
Sara Vickers as Joan Thursday
Simon Harrison as DCI Ronnie Box
Alison Newman as Viv Wall
Colin Tierney as Assistant Chief Constable Bottoms
Ian Burfield as George McGyffin